Galena Guide | Compiled and Written by Nelson Algren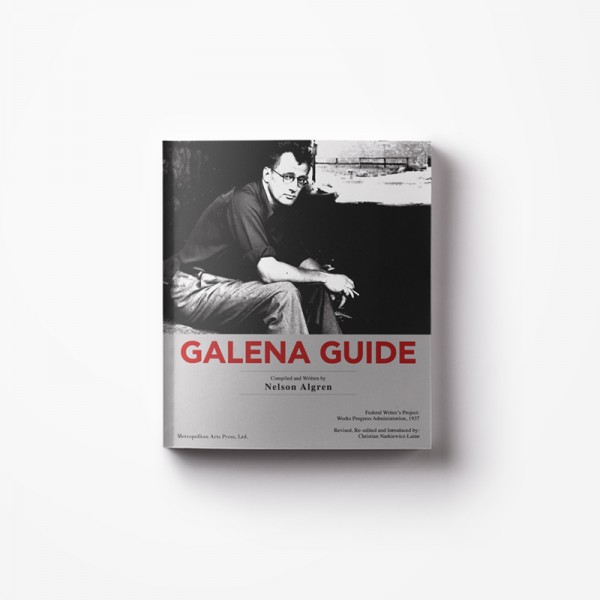 Tags: Nelson Algren, Galena, Illinois, Guide
ISBN:

0-935119-67-1

Dimensions (WxH) (cm):

23.00 x 27.00

Availability:

In Stock
In 1935-1936, the famous Chicago writer Nelson Algren came to Galena, Illinois and wrote the first and most comprehensive history on the city under the direction of the Works Progress Administration (WPA) as represented by the Federal Writer's Project.
Published in 1937, Galena Guide continues to be a landmark achievement that documents and records Galena's rich history, starting from its early origins as a sacred place along the Mississippi River settled by ancient Native Americans to an American industrial boomtown in the 1850s as an important and prosperous port and center of the lead mining region in northwest Illinois.

The "Lead Rush" preceded the California "Gold Rush" by 20 years and its impact shaped a unique city in the Upper Mississippi River Valley that has survived for nearly two centuries as one of the most beautiful towns in the United States.
Algren tells the story of Ulysses S. Grant and other historic figures who lived and visited Galena, as well as recounts a vivid and lively description of the urban setting of this unique Victorian city with its rich architecture and architectural styles that remain today as an historic testament to the town's greatness.
During the Great Depression in the 1930s, Galena Guide was published as one in a series of guide books for individual cities and counties in the United States under the Federal Writer's Project. The task was to obtain, compile, and prepare for publication the material for guide books in the 48 states and the District of Columbia. These state guides furnished an encyclopedic publication that became known as the American Guide. This republication of Algren's 1937 Galena Guide today has been revised, reformatted, and introduced by architecture critic and journalist, Christian Narkiewicz-Laine.

The book includes historic photographs from the Archives of The Chicago Athenaeum: Museum of Architecture and Design.

Soft Cover: Perfect Bound
Pages: 172 pages
Publish Year: 2018
ISBN: 0-935119-67-1