40under40 European Design Yearbooks Combo Offer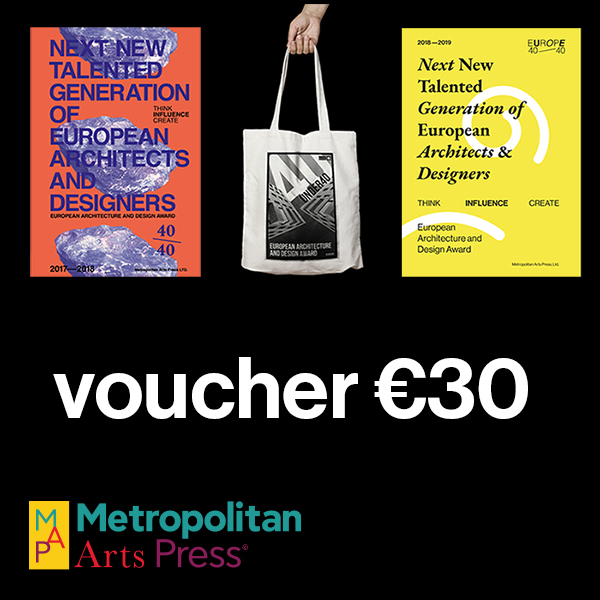 Tags: Voucher
This e-voucher provides you with a unique promotional code. It is not refundable or exchangeable for cash, and any unused balance will not be refunded. It does not cover shipping costs; shipping costs will be charged additionally.
This voucher offers a €30,00 discount to purchase our Combo Offer: the set of the two past editions, 2018 & 2019, of the book series "Next New Talented Generation of Architects and Designers" of the Europe 40under40 Architecture and Design Award Program, coming with a limited-edition Tote Bag designed for the upcoming Europe 40under40 2020.
ABOUT THE PROGRAM
Europe 40under40 is an annual program initiated by The European Centre for Architecture, Art, Design, and Urban Studies to spotlight and distinguish the next generation of architects and designers who will impact all forms of architectural and design manifestations in the future.

CLAIM YOUR CODE


To claim your voucher code, you have to:
• Sign up for our newsletter. Users from Europe who have already signed up will be notified by e-mail about the voucher code and how to claim it.
• Follow Metropolitan Arts Press on Facebook and Instagram.


THE OFFER INCLUDES:

1. Next New Talented Generation of European Architects and Designers, 2018
Soft Cover: Perfect Bound
Pages: 136
Publish Year: 2018
ISBN: 0-935119-64-7

2. Next New Talented Generation of European Architects and Designers 2, 2019
Soft Cover: Perfect Bound
ISBN: 0-935119-74-4
Pages: 144
Publish Year: 2019

3. 40under40 2020 Limited Edition Tote Bag
Colour: Black and White
Dimensions: 35X40